If you're a trader, you've probably wondered how the smart money finds the best ideas and executes their trades. Sorry to say, we can't find those trade ideas on our own… Wall Street's largest players have access to an army of analysts, state-of-the-art technology, and sometimes, "insider" information.
What you may not know is the fact we can legally steal their trade ideas, just by looking at order flow. There's good news and there's bad news.
The bad news — you need the technology to detect their every move. The good news — I have access to a proprietary scanner that runs throughout the trading day and sniffs out their best plays.
Today, I want to draw the curtains and show you EXACTLY how the hedge funds and financial institutions use order types and algorithms to cover their tracks…
There are a number of ways Wall Street's largest players throw down their bets, and I want to show you some of the common techniques they use… and how you can use this knowledge to your advantage.
The Iceberg Order
Since these Wall Street fatcats have large amounts of cash and can throw down millions of dollars on stock trades… they want to hide their moves.
Why?
It could impact the price of the stock or exchange-traded fund (ETF), and their competitors may look to front run their ideas. So it's advantageous for them to use order types such as the iceberg order.
So what's an iceberg order?
Well, it's perfect for the smart money because it's designed for players who submit large volume orders, whether it be for stocks, futures, options or warrants. This order type allows them to conceal their full position size.
In other words, it looks to prevent market participants from jumping the gun because they know the demand is popping up.
Quite simply, all they have to do is place their order and change the display size.
Here's how it works, they could look to buy 1M shares of a stock… but only display 1,000 shares. In other words, they would sit on the bid and the order size that's shown would only be a measly 1,000 shares.
So it's like a game of poker… they have pocket Aces, but don't let people know, so they get less aggressive with their betting.
Let's take a look at another order type these players use.
The VWAP Algorithm
The VWAP — Volume-Weighted Average Price — aims to provide market participants with the "best" price. Basically, the trading platform calculates a price based on the volume for a specified period.
In real-time, the algorithm continuously calculates the price from when you submit the order until the close of the market. Sounds great, right? These Wall Street fatcats can just place a VWAP order and step away from the desk, and let the computer do the rest.
The thing is, the market knows what the VWAP is at all times, so it's a little less covert for these players. Just take a look at the VWAP line in Facebook (FB).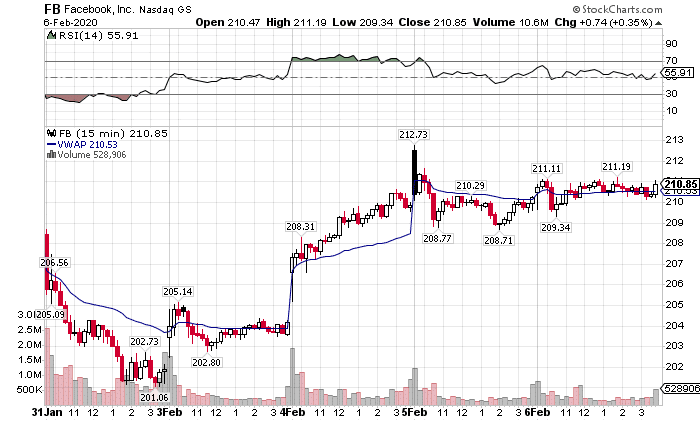 As you can see, the VWAP tracks the movements of stocks very closely. However, if there's a break above the VWAP line… it's an indication someone is buying and it could run up… and if it breaks below… the stock could head lower.
So while the smart money does use the VWAP and iceberg order… it doesn't provide them with enough anonymity.
Instead, they've turned to dark pools. 
Why The Smart Money Loves Dark Pools
The dark pools allow the smart money to combine order types and algorithms, with anonymity. Basically, they could use the VWAP and iceberg if they want to. However, what they typically do is just do it all in one shot.
Why?
Well, if they trade in dark pools, it won't necessarily impact the market. You see, everyday traders aren't always privy to that order flow… you actually need to have scanners or access to dark pools to spot their trades.
Let me show you how it all works with a case study.
I spotted a dark pool trade in Merck & Co. (MRK)
A Wall Street whale came in and gobbled up 2M shares at 88.65.
In other words, someone threw down $177.3M on the trade! That's a massive trade in my eyes… and I don't think someone is placing a massive bet like that if they're not confident it's going to pop.
Rather than just copying these players, I love to make the trade my own. So instead of buying shares, I was looking to the call options.
The trade went off right at a key support level, and I realized the smart money had a great idea. 
So what did I do?
I followed suit… but purchased the options expiring in just about a week's time.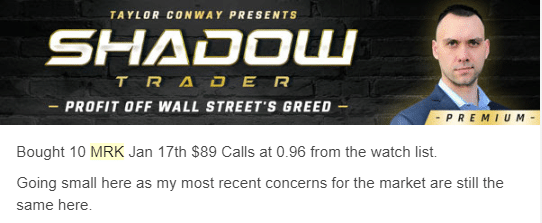 Shortly after, I was sitting in some hefty profits, and I locked in a 54% winner on half of my position.

Now, I tried to hold onto the rest and try to juice some more profits out of the trade… but to no avail. The options actually pulled back, so I took my profits off the table.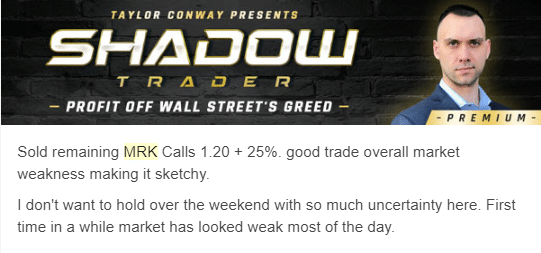 The thing is, I wasn't the only one who profited from this trade… many of my clients also locked in a monster winner.
jeez MRK ST up 25% ~ Lee S.
first 1/2 of MRK calls sold +30% Thx Taylor ~ Gary T.
MRK st up at 38%, will trail out at 50% ~ Ben E.
first half of MRK out at 50% ~ Ben E.
second 1/2 of MRK sold +45% Thx again Taylor ~ Gary T.
Thnx Taylor I'm back over 10k! ~ Mark S.
Out at +50% on MRK…thanks, TC! ~ Chad E.
had a trailing stop on MRK as I had to step away, got 46.2%, thanks Taylor! ~ Kevin S.
Sure, you and I may not be able to trade on the dark pools… but that doesn't mean we can't use them to our advantage. As you can see, they're filled with information that could help us effortlessly generate trade ideas.
If you want to start profiting off the backs of Wall Street's largest players, click here to watch this exclusive training session.